NEINVER begins works on ground-breaking new outlet centre, Alpes The Style Outlets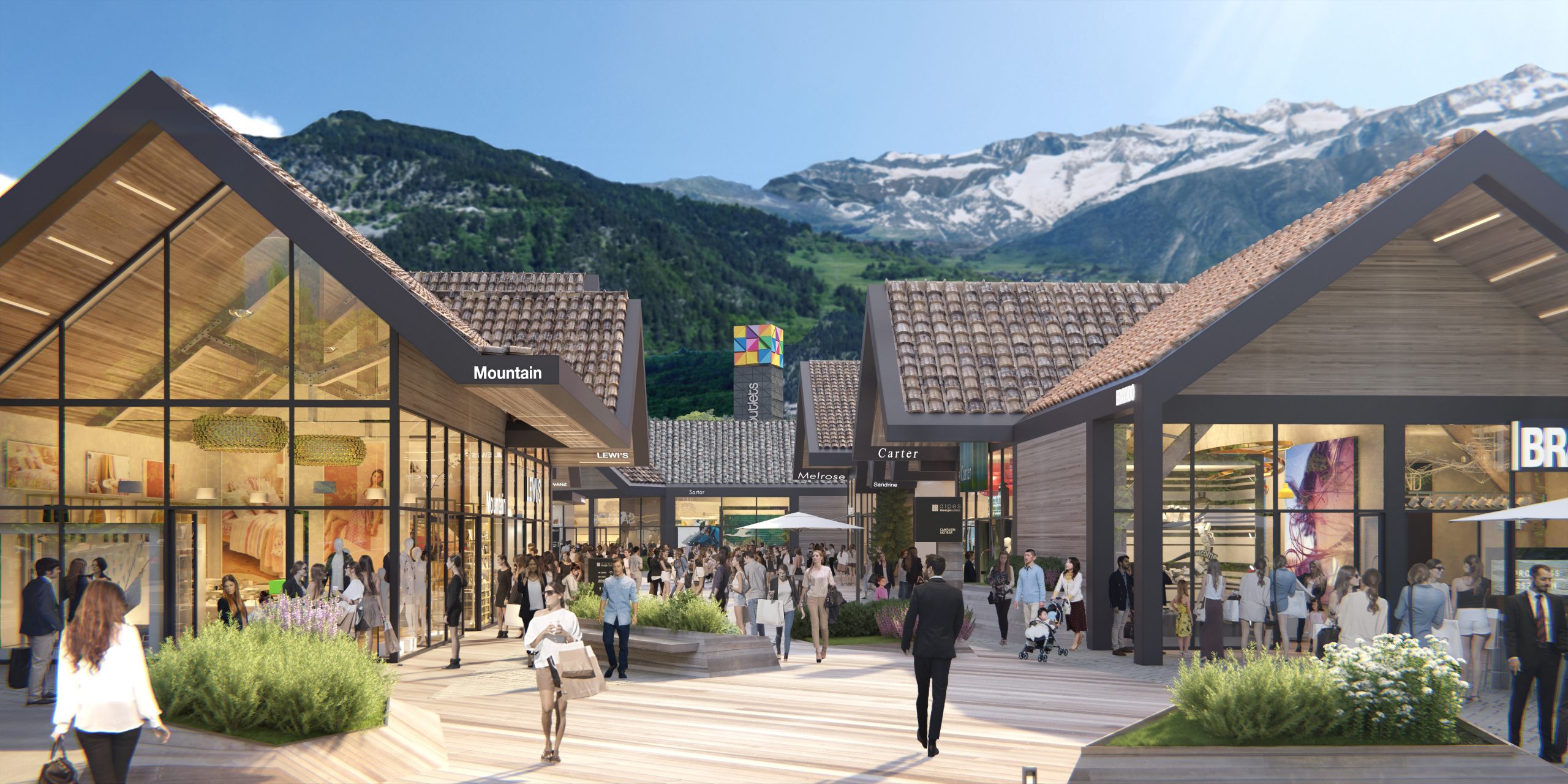 This is NEINVER's second outlet centre in France and marks the company's 17th outlet centre across 6 European countries.

The Scheme boasts an exceptional location near the Swiss border.

Internationally renowned brands such as Adidas, Guess and Levi's have confirmed their presence at the centre, amongst others.
19/05/2022 – NEINVER, a leading property investor, developer and operator company with over 25 years of expertise in the outlet sector, has announced that it has recently resumed construction works at Alpes The Style Outlets, which once completed will mark the company's 17th outlet centre across 6 European countries. The company broke ground last March and works are advancing on schedule, with the development of three platforms that will house the main building and car park all well underway.
Alpes The Style Outlets, which will be NEINVER's second outlet centre in France, boasts an exceptional location near the Swiss border, close to Geneva and next to key tourist destinations. It will feature 20,400 m2 of GLA, over 90 boutiques and restaurants providing both local and international cuisine.
"France is a strategic market for NEINVER. Our aim is to develop and operate this centre with the local community firmly involved, providing it with an exciting leisure option, while also contributing to improving the region's economic and social development," commented Daniel Losantos, NEINVER Chief Executive Officer. "Outlet centres have shown continued resilience, and this development is a clear vote of confidence in the sector and in the opportunity the site offers to brands to further grow their business."
Located 25 minutes from Geneva, the scheme will offer 1,350 parking spaces and will have direct access to the A-40 motorway, a key transport link between France and Switzerland and to popular winter destinations. It will also be easily accessible by high-speed train thanks to the Paris to Geneva connection, with a TGV station located just 5 minutes from the future centre.
"We are seeing keen interest from our brand partners in this one-of-a-kind project due to its exciting retail proposition and its unique location, with great brands such as Adidas, Guess and Levi's already joining the scheme", says Joan Rouras, NEINVER Leasing and Retail Director. "The centre is exceptionally well located in the Grand Genève area, which enjoys a strong purchasing power and high levels of tourism. The region has also seen a spike in population growth in recent years and is expected to continue increasing significantly in the coming years. To attract these customers, we are designing a destination that will feature an exclusive retail mix of sought-after international brands and the best of what the local area has to offer – a compelling offer for any fashion lover or avid sports fan."
Finely tuned to the local landscape, Alpes The Style Outlets will offer an avant-garde atmosphere, combining natural materials such as wood and stone for a contemporary look. In this open mall concept designed in an "Alpine village" style with chalet-style shops and terraces, NEINVER plans to create a promenade destination and a relaxing day-out providing much more than just shopping. Lyon-based SEV Architectures will project monitor the construction under the coordination and supervision of Arcadis, leading global design and consultancy.
The opening of the centre is expected to create around 500 direct jobs.